Today I'm exchanging questions with Tamara of Tamara Like Camera for the Ask Away Friday link-up. I've been reading Tamara's blog for a while now, and I have to admit that it took me an embarassingly long time to figure out that her blog name was a pronunciation guide for her name, not just a reference to her beautiful photography.
In additional to admiring her photos and her beautiful family, I love her quirky sense of humor (including her love of moose) and her sensitive, perceptive take on the world.  She's also one of the new hosts of the Ask Away Friday link-up!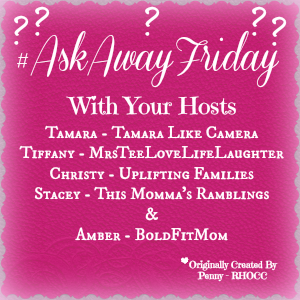 Here are Tamara's questions for me.  You can check out her answers to my questions here!
1. Tamara: Do you have any plans to travel this spring or summer?
Sarah: Yes! We are traveling to a small town outside Lexington, Kentucky for my husband's seminary graduation. I am not looking forward to the 10 hour drive with two little kids in tow, but once we get there, it looks like we will have lots of fun stuff to do! Horses, baseball, Shakers and whiskey. What a great family vacation, right?
And of course our moving plans in late June/early July involve some travel as well!
2. Tamara: I got this one from Shelly at DIY Mama: Finish this sentence: Sometimes I _____ when no one's watching.
Sarah: Do cartwheels! Steal chocolate from my co-worker's candy dishes.  Peek at my phone to see if anyone has left me a blog comment.
3. Tamara: If there was a reality show about your family, what would it be called?
Sarah:  This is a tough one!  I definitely don't think we have enough drama in our household to justify a reality show.  But we do all love to cook and eat, and I sort of feel stressed out all the time lately (new baby, moving, husband changing jobs… all in less than a year), so I think our show would be called Under Pressure.
4. Tamara: Can you share a recent photograph and tell me the story behind it?
Sarah:  Typical mom… I just can't pass up an opportunity to share a picture of my cute kids.  Something I never expected about having a second child was seeing how much my boys adore each other.  This scene isn't that uncommon, but usually when it happens I end up getting a picture of the back of older son's head.
I got this picture because I happened to be lying on the blanket next to Sam, enjoying one of our first warm days of spring, and Josiah came over to snuggle on him.  And then I died of cuteness.
5. Tamara: So Matt was your college sweetheart, as I read. How did he win you over? How do you think you won him over?
Sarah: Matt was (and is!) a really smart and funny guy. He also is a very ambitious, creative person, which certainly distinguished him from the boy I was dating when I finished high school.  But he truly won me over with his awesome cooking.
We always joke that I won Matt over by fooling him into thinking I knew a lot about computers. He is a major tech geek, and when he pulled out an Apple Newton (late 90s version of an iPad) and started messing around with it, I recognized it from my mom and dad's computer store (before there were Apple stores) and asked him about it. He was so impressed that I knew what it was!  Bwah ha ha… I was then and am still majorly clueless about technology.  But really, I think he liked my sense of humor and independence.
6. Tamara: If you had the afternoon to yourself, what would you do?
Sarah:  Oh boy… knowing me I'd probably clean my house and bake.  Exciting, eh?  But what I should do is go to lunch with some friends and watch a movie or go shopping with them!  Those are two simple pleasures that I don't do nearly often enough.
7. Tamara: Is there something you are particularly looking forward to doing with your kids when they get older?
Yes, I hope they will want to go running with me. I hope to travel with them to places that I have loved to visit. We took driving vacations every summer when I was a kid, and I feel like I learned so much from seeing different parts of the country that way. It will be great when the kids can hike or bike along with us instead of having to carry them on our backs!
8. Tamara: What is something you look back on and think, "I can't believe I did that, but I wouldn't go back and change it!"
Sarah:  Pretty much everything about the year I spent in Spain when I was 20 years old.  Not so much that I did anything I shouldn't have (I'm about as straight-laced as they come) but I am just amazed that I was brave enough to do it:  pack up and move to Spain for a year, with the bare minimum of Spanish classes required.  Take college classes in Spanish.  (Not Spanish classes mind you — econ, journalism, geography, stuff like that.  In Spanish.  I was usually the only non-native-Spanish-speaker in the class.)  Rent an apartment that ended up to be this weird boardinghouse situation with a developmentally disabled adult, another foreign exchange student from China who thankfully spoke perfect English, and a very sketchy Spanish dude.  Packed up all my stuff and moved out with no notice and into another American student's room that she had sublet.  And that was just the first month!
9. Tamara: What's a song(s) that makes you feel peaceful when you need to clear your head?
Nightswimming by REM.  Always and forever.  (ps, I'm so glad you asked me this!  I've had it on repeat since answering this question!)
10. Tamara: How did you come up with your sons' names?
Sarah: We were considering Joseph for my older son's name, then I overheard a mom at a local amusement park hollering "Jooooo siiiiiii aaaaaah" at her son, and I thought: I like it!  I can yell that. =)
For Sam (Samuel), I think I suggested it and my husband said okay.  As you can tell we like sort of old-fashioned, Biblical names.   I have about 40 first cousins and I really like a lot of their names, but I didn't necessarily want to name my kids after a random cousin.  But I really liked the name Samuel (even though I have a first and a second cousin named Samuel!), so I decided that one more would be okay.
Thanks for the great questions, Tamara!  I loved the question about kids names — if anyone reading has an interesting story of how they chose their kids' names, I'd love to hear it!  And if you'd ever like the swap questions for a post like this, just let me know.